What is TOG? And What Thickness Sleeping Bag Do I Need For My Baby?
Confused about what TOG is and what TOG measure you need for your sleeping baby? Here's a quick guide for you to figure out how to dress our baby properly for sleeping.
WHAT IS TOG?
TOG is a unit of measure of thermal insulation used in the textile trade. The British "TOG" value is the international standard measurement of a blanket's thermal effectiveness (how well it keeps you warm). In US, clothing insulation is often measured in 'clo' and you often see this value in adult sleeping bags.
WHAT YOU NEED TO KNOW
To figure out which TOG rating sleeping bag would be appropriate for your baby, simply figure out the temperature of your baby's bedroom.
Many experts recommend that the temperature in the room where a baby sleeps be kept between 68-72 ° F (20-22C).
Once you know the room temperature, match this measurement to the sleeping bag that's best for your baby based on its TOG rating. There are few things to keep in mind:
A baby sleeping bag surrounds the baby, providing insulation from both below and above, and also a warm pocket of air around the baby.

This is the reason why the TOG rating for a baby sleeping bag is much lower than adult duvets. While adult duvets may seem more thick and warm, it is recommended that baby's sleeping bag to be kept 'light weight' and be no more than 3.5 TOG rating.

Keep in mind that layering allows great flexibility in keeping babies warm and cozy without overheating,

and each additional layer of clothing adds to overall TOG rating. Overheating may increase the risk of sudden infant death syndrome (SIDS) in babies 1 month to 1 year of age.
Below is a chart to help you with determine how to dress your baby when wearing a sleeping bag and an explanation on popular baby sleeping bag TOG rating.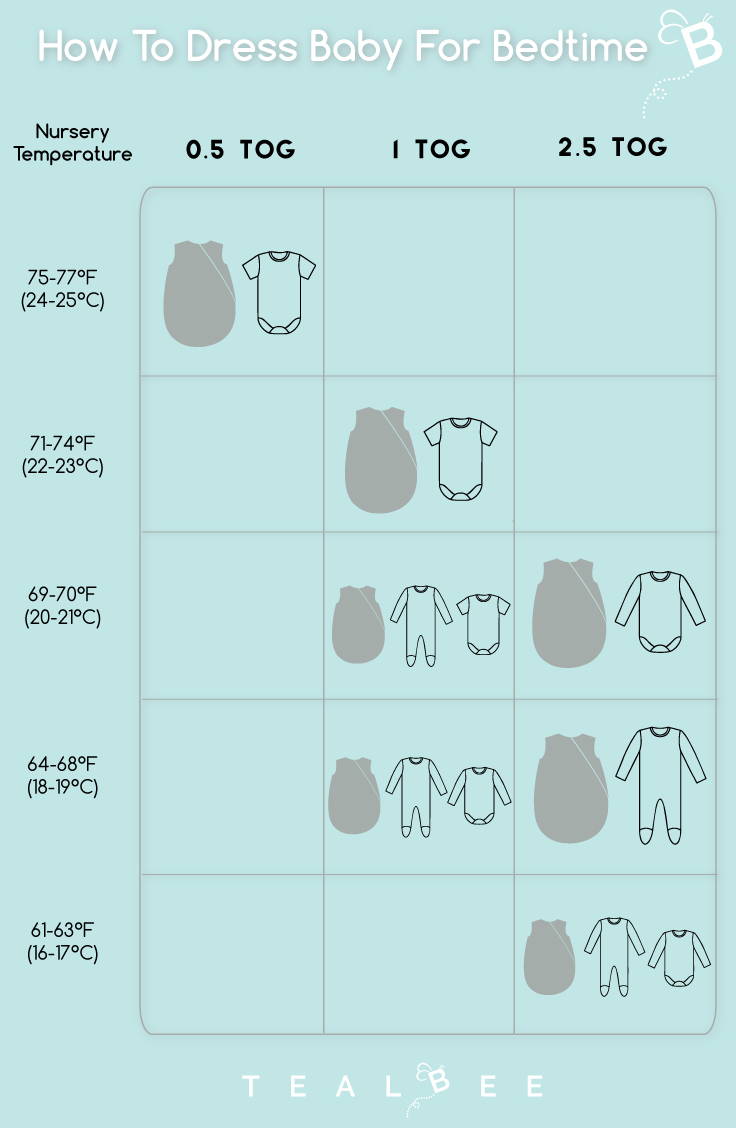 0.5 TOG - This is the smallest TOG rating. It's a very light and breathable sleeper that is best suited for nurseries and homes where the air is already conditioned by a heater or fan. See baby and toddler sleepsacks with TOG of 0.6 here.
1 TOG - If your home tends to stay moderate and comfortable, a 1.0 TOG rating may be the best choice. This is a middle of the road number that holds in some body heat but also breathes. (Tealbee Baby Sleeping Bags have a TOG rating of between 1-1.5 TOG due to the breathability and thermal regulating nature of the bamboo fabric they are made from. We found this to be ideal for babies in most climates, most of the year around, especially since babies nurseries are recommended to be kept between 68-72 °F.) See our most popular baby and toddler sleepsacks with TOG of 1.0/1.2 here.
2.5 TOG - This TOG rating is suited for cold homes, chilly weather, or kids who have a hard time getting warm enough. A 2.5 rated sleeping bag will retain a high amount of body heat and lock it in to keep baby warm.
See Tealbee's baby and toddler sleeping bags here - it provides great versatility throughout the year, simply by adjusting the level of your baby's nightwear. When the weather is very cold, simply add more clothing (this could include a sleepsuit with footsie, socks and even an extra layer of clothing). When the weather is warmer, or perhaps if your child is unwell, you can remove layers of clothing while still keeping your baby at the right temperature.
---
Want To Get More Sleep Tips For Your Little One?
You Also Get 15% Off Your 1st Purchase!
Learn Why Our Customers Love Tealbee!